Dunno, maybe it's a new kind of spam. Or another quick and dirty SEO trick.
Maybe the two beautiful cities London and Amsterdam are battling to lure German tourists into their hotels. The English national tourist-agency just scored a superb goal:
London – Amsterdam: 1-0
A `wandeling door amsterdam` in Dutch  (`a walk in amsterdam`) is translated by Google to `London Walks` in German.
Really?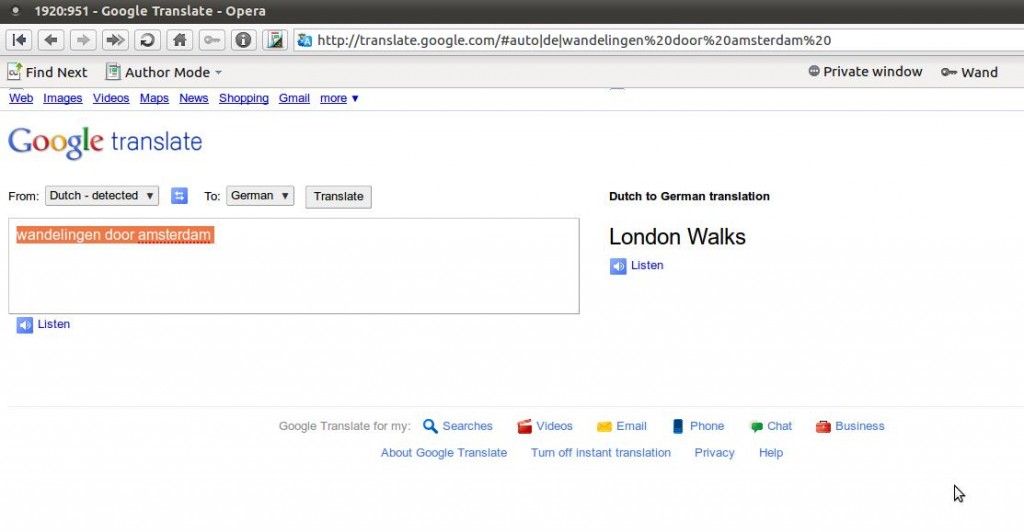 Really!!
http://translate.google.com/translate_t#auto|de|wandelingen%20door%20amsterdam%20
Don't trust computers, don't trust the internet, don't copy, paste and trust.
Don't think the beautiful Vondelpark is in Londen or that the Towerbridge is crossing the Amstel River. Don't think a walk in Amsterdam is a London Walk. Please do not!
Hey Google, you're one of the most creative companies of the world, but now you've gone to far!!!
Maybe I should start selling some Google-shares…
Tags: SEO